John Mitchell
Software Engineer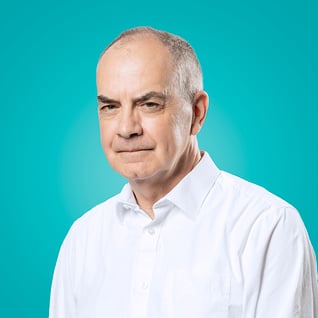 Allow me to introduce you to John Mitchell, our remarkably skilled Software Engineer, whose expertise has played a pivotal role in shaping our technology landscape over the past seven years. As a master craftsman in his field, John meticulously engineer's computer software, with a special emphasis on creating seamless and intuitive user interfaces for our instruments. His unwavering commitment to excellence has greatly enhanced the user experience of our technology, earning him a well-deserved reputation for his exceptional work.
John earned his B.Sc in Physics from Liverpool University and has since been navigating the challenging yet rewarding world of software development. What he loves about his job is not only the act of writing software but also the relaxed atmosphere and the brilliant people he gets to work with here at Ellutia.
Born in Southend-on-Sea and now residing in Littleport, John brings a unique perspective to our team. When not crafting code, he indulges in his love for model railways. As a member of two online model railway clubs, he is deeply invested in this hobby and even has his own layout. John is a man who appreciates a good laugh - his favourite film is the comedy classic "Airplane!" and he enjoys the TV comedy "Blackadder Goes Forth."
In the evenings, you can find John unwinding by watching the quiz show "Pointless" on TV, aligning perfectly with his personal motto, "You can observe a lot just by watching." If he hadn't found his calling in software engineering, he'd likely be working on the railways in some capacity.
If given the chance to dine with anyone, John would choose William Shakespeare, hinting at his appreciation for literature and historical figures. For vacations, he's drawn to the serene beauty of the Lake District.
John's dream superpower is the ability to stop time, craving that extra moment to get things done. Let's hear it for John Mitchell, our meticulous Software Engineer, whose love for coding, model railways, and classic comedies makes him a cherished part of our Ellutia family.
"Guided by our ethos of an 'Innovative Approach', my role as a Software Engineer constantly drives me to challenge the status quo. Every piece of code I write or interface I design is focused on creating unique solutions that meet our customers' needs efficiently. It's not just about solving problems, but rather, finding better, more innovative ways to do so"-
John Mitchell, Software Engineer